Guest Directory
FRANÇAIS | DEUTSCHE | ITALIANO | ESPAÑOL
Dear Guest,
I would like to extend a very warm welcome to you on behalf of the Team at Bloomfield House Hotel, Leisure Club & Spa. I hope your stay is comfortable, pleasant and enjoyable. Please find enclosed our directory of services available to you during your stay. If there is anything we can do to make your stay more comfortable, please do not hesitate to contact either one of the management team or myself and we will do our best to accommodate your request. We are proud to boast our Charles Brinsley Restaurant, well worth a visit during your stay. An extensive Wine List is available to compliment whichever choice you make. A welcoming smile in comfortable surroundings is guaranteed in our Bar, with Live Music every Saturday night and Bank Holiday Sunday night.
Bloomfield Spa offers a wide range of health and beauty treatments. Use of our Leisure Club facilities is complimentary to all our Residents. Facilities include a 20 Metre Swimming Pool, Sauna, Steamroom, Jacuzzi and Gym. Conference & Banqueting facilities are available in the Hotel, catering for both large and small parties. For further information regarding Weddings, Parties, Conferences etc. please do not hesitate to contact the Duty Manager or myself where we would be delighted to show you around.
Thank you for choosing to stay at Bloomfield House Hotel, Leisure Club & Spa. I do hope you enjoy your time with us and I look forward to welcoming you back in the not too distant future.
Mr. Ronan Byrne
General Manager
Adapters
International Adapters are available to purchase. Please contact Reception.
Two Pin Shaving Adapters are available in your room or by contacting Reception.
Airports
Dublin Airport • 87.87 km • 1 Hr drive • Tel: +353 (01) 18141111
Knock Airport • 130 km • 2 Hr drive • Tel: +353 (094) 67222.
Belfast Airport • 184 km • 2 Hrs 40min drive • Tel: +353 (028) 90939093
Cork Airport • 249km • 3 Hr 40min drive • Tel: +353 (021) 4313131
Shannon Airport • 173km • 2 Hr 45min drive • Tel: +353 (061) 712000
Allergen Information
Allergen Information is included on all our Menus.
Assistance
A 24-hour service for your special requests or problems that need immediate attention is available by dialling 0. Pour de l'aide s'il vous plaît composer le 0. Für Unterstützung wählen Sie bitte 0.
ATM (Banks)
O'Brien's Centra is only a short drive from Bloomfield House Hotel and provides an ATM service. In Mullingar town, you will find a wide variety of Banks with A.T.M facilities. A Cashback service is available at Reception.
Babysitting Services
Reception will be happy to organise a baby-sitter with sufficient
notice. Charges apply.
Car Parking
Free Car Parking is available for all our Guests. Guests are reminded that they are parking at their own risk. Please do not leave valuables in your vehicle.
Check –out Time
Check out time is 12 noon on the day of departure. Should you wish to extend your departure time, please contact Reception by dialling 0, where we will try to accommodate your request.
Late Check-out charges will apply and is subject to availability.
• Check out by 12pm = no charge
• Check out by 2pm = €20 per room
Conference & Banqueting
Our luxurious Conference & Banqueting Suites are ideally suited for Wedding Receptions, Dinner Dances, Conferences, Seminars and Exhibitions.
We would be delighted to discuss your requirements and show you around. Please dial 0 if you would like more information.
Cots
Should you require a cot in your bedroom, please contact Reception. Please dial 0 for assistance.
Emergencies & Fire Safety
In case of an emergency dial 0 for assistance. Please carefully read the fire notice and escape plan on the back of your bedroom door and acquaint yourself with the fire exits in the Hotel.
Florist
To order flowers, please contact nearby Sheefins Florist on (+353) 044 9348018
Foreign Currency Exchange
A foreign exchange service is available at Reception.
Gift Vouchers
Gift Vouchers are available at Reception for any occasion. Treat that someone special to a relaxing overnight break, pampering Spa Treatment or superb food and wine.
Hairdryer
For your convenience, a hairdryer is standard in all rooms.
Housekeeping
Extra pillows and blankets are available in your closet. For additional items please dial 0.
Iron & Ironing Board
For your convenience, an Iron and Ironing Board is standard in all rooms.
Laundry
Using the laundry bag provided, please leave clothes at Reception before 12pm for same day service. Laundry dropped after 12pm will be returned the following day. A €20 per bag charge applies.
Live Music
Live Music takes place every Saturday night and Bank Holiday Sunday night.
Lost Property
Please contact Housekeeping or Reception by dialling 0 if you lose any items in the Hotel.
Luggage
If you require assistance with luggage please dial 0 for a porter.
Newspapers
Newspapers are available at Reception.
Payment
We accept cash and most Credit & Debit cards. All accounts must be settled prior to departure unless previous arrangements have been made.
Shoe Shine
Shoe shine kits are available at Reception.
Smoking
All rooms and areas of the Hotel are non-smoking. Smoking or Vaping will result in a €200 charge.
Tea/Coffee
Complimentary Tea/Coffee making facilities are available in your room.
Telephone
Reception & Wake Up Calls - Dial 0.
International Calls - Dial 9 followed by the relevant code:
UK • 0044 | Canada • 001 | USA • 001 | Germany • 0049
Italy • 0039 | France • 0033 | Spain • 0034 |Sweden • 0046
Netherlands • 0031 | Belgium • 0032 | Australia • 0061
Denmark • 0045
Telephone Charges
Local & National Calls 10c per minute • Mobile Calls €1 per minute
Western Europe €1 per minute • Rest of World €1.20 per minute
Contact Reception for further pricing details - please dial 0.
Toiletries
If additional toiletries are required, please dial 0.
Towels
Please ensure all towels are replaced in Bathroom prior to departure. Should you wish to take a Bloomfield towel with you, we shall take it as authorisation that you wish to purchase it.
• Bath Mats €15.00 • Robes €40.00
• Hand Towels €15.00 • Bath Towels €20.00
If you are availing of our Health & Leisure Facilities, towels can be obtained from the Leisure Club Reception.
Transport
Transport can be arranged through local Taxi Companies. Please contact Reception by dialling 0.
Umbrellas
For your convenience, umbrellas are available at Reception.
Valuables
As a precautionary measure, we would advise guests against leaving valuables in bedrooms. Should you wish to store valuables, they may be deposited in a sealed envelope at Reception. This service is offered free of charge to all our guests. Special attention is drawn to the notice under the Hotel Proprietors Act of 1963 displayed at Reception.
Wheelchair Access
Accommodation is available for guests with special mobility needs. Please dial 0 for assistance.
WiFi
Available free of charge throughout the hotel. Provided by "Virgin Wi-Fi". To connect your device:
Settings > WiFi > Connect to "Virgin Wi-Fi".
A web page will open automatically > Click "Go".
New devices will require your email and user name.
If you have issues, please call Virgin Media on 1850 248 289
Wake-up Call
Should you require a wake up call please dial 0 for Reception.
FAQ's
We have also compiled a list of questions asked most frequently by our guests available here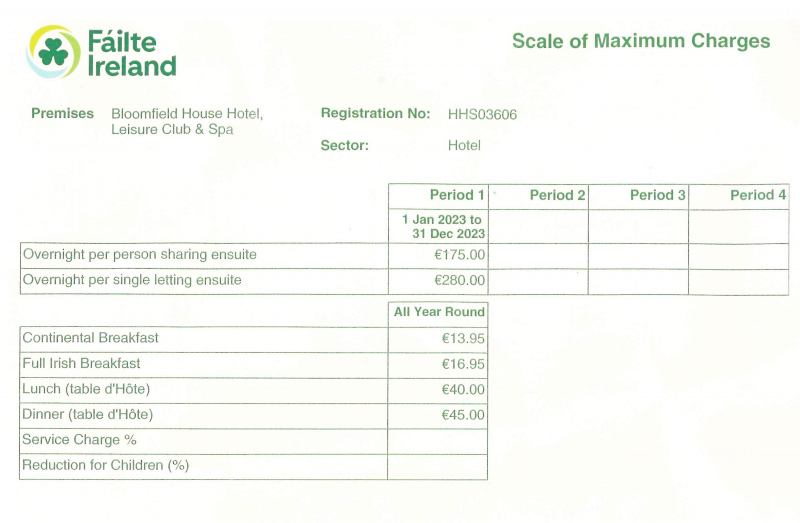 Fire Evacuation Procedures
For your own safety and the safety of others, please read the instructions inside your bedroom door and the information in this directory.
Please treat all incidents as an emergency. It is the duty of hotel guests to conduct themselves in such a way that no person on the premises is exposed to the dangers of a fire.
Please study the emergency plan.
Where is the fire extinguisher and how does it work?
Where is the nearest available exit if there is an emergency?
If you discover a fire:
Break the glass of the nearest Fire Alarm Call Point.
Raise the alarm by dialing "0".
Do not panic.
Do not use lift.
If you hear the fire alarm:
Continuous ringing of the fire alarm means an emergency.
Leave the premises at once, closing doors and windows behind you.
If you are unable to leave your room, shut off the ventilation and put wet towels in the door gap.
Protect your head with a wet towel. The towel can also be used to protect breathing.
Stand at a window so the emergency crew can see you. Attract attention.
Bring your room key. If the corridor is filled with smoke you may be forced to return to your room.
If smoke is thick, crawl along the floor where air and visibility is better, or return to your room.
Do not use the lift.
Proceed to the Fire Assembly Point. A roll call will then be taken so please remain in this area and wait for further instructions.
Do no congregate or cause obstruction to the Fire Brigade.
Once you are outside the building, do not re-enter until the all clear is given by Hotel Management.