Real Guest Experience
Royal Canal Greenway: a Midlands cycle fit for a royal
The Royal Canal Greenway is an ideal journey into our hidden heartlands, writes Marie Toft, who stayed at Bloomfield House Hotel, Leisure Club & Spa during her recent adventure...
A heron swooped out of the rushes nestling the Royal Canal Greenway as we cycled along on a balmy August afternoon and I decided it was official — after years of insisting on family holidays beside the coast, I was falling for the many attractions of Ireland's lush, peaceful heartlands. It's hard to take the Cork out of this woman and in the dark months of coronavirus lockdowns, we truly discovered how fortunate we are to live right beside the Atlantic Ocean.
But in the summer of staycations, we definitely needed a change of scenery so we swapped the sea for the rolling beauty of south Longford, Meath, and Westmeath and took off on a two-day cycling holiday along the Royal Canal Greenway. After decades of restoration and a cost of €12m, this wonderful walking and cycling amenity launched last March, just as we were all starting to contemplate being able to move beyond our small patch of ground. At 130km, it's now Ireland's longest greenway, stretching alongside the historic 225-year-old Royal Canal. So it's now possible to boat, paddle, walk, or cycle all the way from Maynooth, Co Kildare, through Meath and Westmeath until you finish at the Shannon in Clondra, Co Longford.
This feat of engineering, which boasts 19 bridges, 33 locks, 17 harbours, and four aqueducts took nearly 30 years to build and was a powerhouse of barges and activity until it was overtaken by the railways and roads and officially closed in 1960. Now it's been restored and reimagined as a tranquil holiday destination which you can explore all at once (we weren't fit enough, I'm afraid!) or choose the shorter designated routes — ranging from 6km to 15km between the 14 connecting access points and towns. Ballymahon, Co Longford, was the starting point for our trip and after a three-hour drive from Cork, we were glad to stop for lunch at Wilder & Gold cafe. It had been over six years since I had last visited Longford; I discovered a transformed county.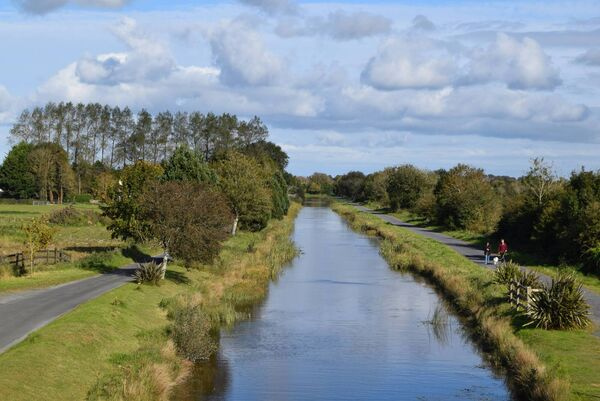 Wilder & Gold owner Marie O'Dowd credits Center Parcs — the high-end holiday village which opened in Longford Forest in 2019 — with this metamorphosis. Originally from Lanesborough, she moved back from Dublin to set up her stylish cafe/shop and ensure the influx of visitors, along with Longford locals, could enjoy excellent coffee, tasty salads, and fabulous carrot cake. Then it was time to get down to this cycling business so we headed straight to the newly opened Ballymahon Cycles to meet owner John Fitzgerald and his 10-year-old son Tadhg — who encouraged us to try out their ebikes. So after a quick cycle round their shop to get our ebike cycle legs, we decided to go for it. We had a ball — it's genuinely like someone is at your back giving you a gentle push.
We swept along the Royal Greenway, spotting so much wildlife alongside gentle horses ambling the banks of the canal. After about 30 minutes, we arrived at the Corlea Trackway visitor centre, to discover an inspiring relic of pre-history. Built in 148BC, this heavy oak road is the largest of its kind to have been uncovered in Europe. That night we stayed at the remarkable Castlecor House, a Georgian residence stepped in heritage and history. Loretta and Brian Grogan, who live here with their three children, have been lovingly restoring this 41-room mansion for the last 10 years. They only recently threw their doors open to guests and we stayed in gracious, high ceilinged bedrooms which boasted beautiful bed-linen. It's regularly said Ireland would be a great country if you could only put a roof on it. The owner of Cooney's Hotel in Ballymahon, Michael Cooney, has decided to give it a go, if only in his hotel's courtyard! Seeing the success of outdoor dining, he's installing a remote-controlled retractable roof for the way we live now. We enjoyed a delicious dinner at Cooney's and couldn't resist their famous chicken wings and blue cheese dip.
The following morning and Mullingar was our next stop for an extremely healthy brunch at Wholesome Kitchen. This innovative, family-run food company is on a mission to make healthy food delicious and fast. It uses primarily plant-based ingredients and we loved the fresh acai bowls with banana, mixed berries, and granola. Then it was back on our bikes, which we picked up at Mullingar Bike Hire to enjoy more of the peaceful Royal Greenway. We cycled over 25km and worked up a sufficient appetite to justify a tasty lunch of mussels and duck spring rolls at the four-star Hamlet Court Hotel in neighbouring Meath's Johnstown Bridge.
We spent our second night at Bloomfield House Hotel in Mullingar — our 13-year-old daughter was thrilled to have a dip in its large pool while we relaxed in their leisure club and spa. Idyllically situated overlooking Lough Ennell and nestled in acres of rich parkland and lofty trees, the service at Bloomfield was excellent and it was fantastic to see the hotel full of families making the most of their summer holidays. I'm very glad I woke up to the serene and peaceful landscape of our hidden heartlands and, considering how sheltered the Royal Canal Greenway is, it would make a great destination for exhilarating autumn and winter activity holidays, no matter what your fitness level.
Click here for further information on the Walking & Cycling amenities nearby Bloomfield House Hotel
Dublin couple embark on a 'Camino de Belvedere'
Dublin based husband and wife Frank Murphy and Mary Keaveney are no strangers to Westmeath but their most recent trip came about because like many they had to cancel their summer trip abroad. Mary, an avid walker, and Frank, a retired hill runner, have already walked the Camino routes from Pamplona, Lisbon and Iran and were looking forward to hitting the Santiago trail until Covid-19 turned the world as we know it upside down. So impressed were they with Bloomfied House Hotel and the Mullingar area in general, that they wrote an account of their stay to share with the readers of the Westmeath Examiner. Have a read below...
Unable to hit the Santiago trail this year with the Covid-19 pandemic we decided to head for a few days on the Camino de Belvedere. Because of the fraught times in which we are living, instead of moving from place to place, we chose to base ourselves in Bloomfield House Hotel, where we have been fortunate to spend many happy days in those old normal times.
Monday
Arriving on Monday 4pm for check-in, we were delighted that apart from the social distance, sanitiser and shield cover, things weren't too different from the usual arrival in Bloomfield. Of course it shouldn't have too much difficulty; wouldn't it be in its genes as it was a hospital once. The welcome was warm as always, if having to book your breakfast and dinner times in advance was somewhat strange. Fripperies have disappeared but the essentials are still there. Newspapers and information leaflets are gone but the room is clean and restful. We head out for the wonderful walk down to see again those waves so beloved of the poet Betjeman in the poem printed for him by the Westmeath Examiner.
7.30pm: Dinner in the bar and there's a good crowd in, yet all is well ordered. We hear there are fewer tonight than were here earlier in the bank holiday weekend, when it was a full house. We are shown to our socially distant table and the shank of lamb is excellent, as is the perfect panna cotta. All the new protocols and procedures are fully adhered to with little fuss. It appears neither adults or children are bothered in the least as evidenced by the usual happy holiday hum.
Tuesday
8am: Breakfast in the dining room. We're put sitting near the window and it's carvery style but it's handed to you rather than helping yourself and the food is of its usual fine quality.
Purchasing our tickets for Belvedere at reception, we are informed that now you have to book. We get a prompt email back confirming our 10.30am slot.
If everything is going well up to this, then it's out now for the, as usual disappointingly terrifying, road walk from the hotel down to Belvedere. It's such a pity that a beautiful country walk should be so dangerous with no path or hard shoulder but just a narrow road with cars in the main racing by at excessive speeds. Its all quite unnecessary and to think that the two properties were once jointly owned. On this occasion, for the first time ever, a friendly local driver slows down as he passes us and offers us a lift. He can't imagine how his kindness contrasts with his fellow motorists. He reminds us too of the great friendliness you receive on the Camino de Santiago and how the yellow arrows tailor a safe way for the peregrino.
The leader of the 1922 Everest expedition, Col Howard Bury, would be proud of how his successors have organised today's Belvedere explorers by appointment. Everything is marshalled with the greatest of ease.
Needless to say, the whole estate is in its August prime and the walled garden, which we enter by the fairy gate, is bursting with blooms. The goldfish are shining in their sunlit pond. While we cannot find the Chumbi roses brought back from Bury's Himalayan travels, the magnificent array of flowers more than compensate for their reticence. Presumably due to the pandemic, Belvedere house itself is closed so we can't follow the downstairs/upstairs lives of all those who have gone before. We sit instead in the shade of the Jealous Wall and enjoy a salad before inspecting all the apple trees, including the Ballyvaughans and Finnertys, on our way out.
6pm: We grab a slot in the swimming pool, where the life guards instil us with confidence, before 7pm dinner.
Wednesday
After our 8am breakfast we wait for the rain to ease before heading for a cycle. Again it's out on the narrow road where the cars race past far too fast, which makes the ride into Mullingar unnecessarily stressful, having missed the turn off for the quiet canal path. Up the Tullamore Road passing the greyhound track by Lynn Road and the James Joyce mural on Mount Street. Despite the rain, there's a lot of traffic in town and many folk out and about. We check the books in Oxfam and Eason and in Market Square take a selfie with the great Joe, who can't say no! Then it's into the Ilia Cafe for mushroom soup and another warm welcome.
When the rain eases, we head out up Dominick Street by the station for the Royal Canal path and greenway. It may be raining, as we cycle along but the freedom of being able to cycle on the path without being in fear of getting knocked down by a passing car makes a truly memorable experience.
Having previously had the joy of cycling the whole Old Rail Trail from Athlone, it's easy to understand the benefits of the canal bank path. You're beside the water and the vegetation and away from motorised vehicles. Your mind is in a good place as you pedal the wheels along the way. Only the one solitary fisherman on the bank as the rain clears. The lone cyclist on her constitutional confirms we're at the correct turn off for Bloomfield. Down around the dip under the bridge by the stud farm along the quiet back road before we reach the junction for the busy road again, where there's a slight incline to the hotel.
It's only been a short cycle but for the wet day that's in it, it's good to be back dry. Another swim at 6pm, dinner at 7pm and Saoirse Ronan a stunning Ladybird on RTÉ.
Thursday
10.45am: we cycled out of Bloomfield heading up to access the greenway at Kilpatrick, and already there were other cyclists runners and walkers about but still plenty of room for everyone on the Royal Canal bank.
We hit the Bellmount access in 1.2k and the playground at the Ballinea access in another 1.5k; there two fishermen were seated silently pursing their sport. As we pass, one man caught a little leebeen, released him from his hook and threw him back into the water. Here we turned off from the canal as it headed for Longford and took to the Old Rail Trail, heading for Athlone along what is the disused railway track half hidden with vegetation. It was a straight 4.9k to the Dysart access and then another 2.2k to Castletown station. The old station house closed in 1963. Now privately owned, it looks in fine repair but there is plenty of space to park, picnic and play. We sat at one of the picnic tables and took out our flask and sandwiches. Later we heard that there's a nice cafe in the village.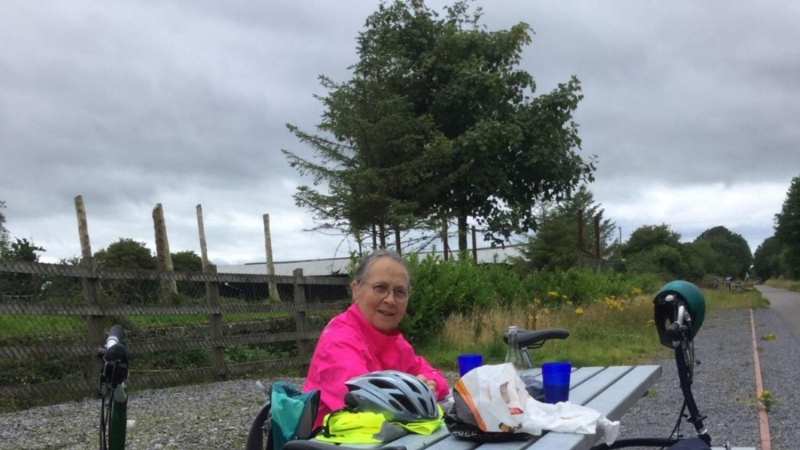 Mary taking a well earned break at Castletown Geoghegan Station on the Old Rail Trail.
Refreshed, we headed back in the sunshine, which numerous butterflies along the way were enjoying. Are they bigger around here or is it just an imagination running riot in the open country? Indeed, the dragon flies seem much bigger too! At Ballinea we veered off to the local shop and enjoyed the friendly welcome, strawberries and an excellent coffee from their new machine, and a free banana thrown in for good luck. Outside, we were chatting to a Kilkenny family holidaying in Athlone, who came to Mullingar to rent bicycles to enjoy a ride on the greenway. Then it was on the bikes for the lovely cycle to the hotel, with only one nasty quite unnerving overtaking on the road before reaching safety. If only there was a cycle lane, this camino would be so much better.
Friday
Today this 'Camino de Belvedere' had to end for us and we planned to finish on a high note by crossing the county border in search of the great Irish novelist Maria Edgeworth, who has a new centre dedicated to her in the Old Schoolhouse in Edgeworthstown. What a rare treat it is to enter the schoolhouse, built in 1840, which is now filled with Edgeworth memorabilia. In addition, we were honoured to get a personal introduction by Matthew Farrell, one of the principal architects of the project. His love of his subject is infectious and permeates the entire exhibition. Not only do the author and her works come to life, but the schoolhouse itself recreates the education for which she and her father were such advocates. It was a fitting place to be at a time when the whole nation is once again consumed with getting the children back to school.
It was a fitting end to our Camino de Belvedere for this time, but like the celebrated Santiago trail, it's by no means over and is available for anyone who wants to follow the lead of one of our greatest explorers, Charles Howard Bury. He led the way to the highest point of the world but he also left us here in Belvedere, one of the country's greatest gems. Together with the greenways and all the other things the area has for exploring, there is no reason why this camino couldn't be packed with folk following its many paths. Hopefully, now with the time that's in it, safe cycleways and pedestrian paths will be provided to ensure this treasure can be safely enjoyed by all.
Thanks to everyone who made this Camino such a wonderful experience for us.
– Mary Keaveney and Frank Murphy
Feeling inspired? Make a break for it with a Lakeside Staycation > Click here to book
Check out our Cycling section for details of nearby routes