New eco-friendly Wooden Keycards
Introducing our new eco-friendly wooden Keycards – durable, reliable and a sustainable alternative to our plastic cards which we are phasing out. Environmental sustainability is one of the defining issues of our time with wide-ranging implications for society and for every sector of our economy. How we respond will be key to the future success of our industry.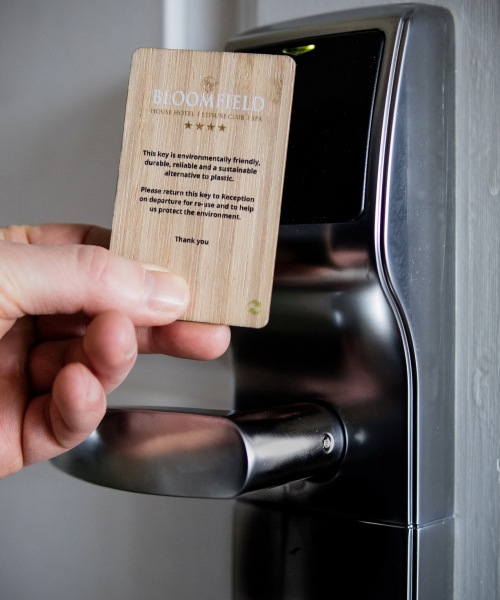 Bloomfield House Hotel Scoops Top Wedding Award for 5th Year
Bloomfield House Hotel, the Four Star Lakeside Wedding venue has just scooped the hotly contested Top Rated Wedding Venue in Westmeath Award for a fifth year from the Irish and UK venue finder website, WeddingDates.ie.
There was great excitement and celebrations at the hotel as the winner was officially announced. "We were overwhelmed by the response we got from all our past Brides & Grooms. We had amazing comments and feedback this year and were still up against it with the competition from other wedding venues" explained Nicola Forkan, Wedding & Events Manager at Bloomfield House Hotel, who was thrilled on hearing the results. "I would like to take this opportunity to express my sincere gratitude to all the wedding couples who added such amazing wedding reviews" she added. Ciara Crossan, Founder & CEO of WeddingDates.ie says; "The WeddingDates Awards represent the best of the best wedding venues from across the country. They are based purely on reviews from past wedding couples who have experienced the service and quality, and we feel that they are the most authentic awards and something that all the winners should be extremely proud of. I'd like to extend massive congratulations to Bloomfield House Hotel and all our award winners this year who represent the crème de la crème of wedding venues in Ireland."
On top of being crowned Westmeath's Top Rated Wedding Venue, the four star lakeside Hotel was also awarded Ireland's Country House Wedding Venue of the Year. This crowns a fantastic year with Bloomfield House also being awarded Midlands Wedding of the Year at the Hospitality Awards hosted by Midlands 103 earlier this year. Ronan Byrne, General Manager at Bloomfield House Hotel thanked all their past couples for their kind and honest reviews. "We are delighted and honoured to have received these awards from WeddingDates.ie. Accolades that are based on our Brides & Grooms feedback drive us to continue to create unique and memorable weddings. This really is the icing on the cake as we celebrated our 40th Anniversary this year. It is fantastic to be recognised as Westmeath's Top Rated Wedding Venue and Ireland's Country House Wedding Venue of the Year based on the opinions of those who know us best – our Brides and Grooms. These awards are a testament of the hard work and dedication of our team" he added.
The Wedding Team are looking forward to an exciting 2020 as they showcase many new additions to their Wedding Packages including the spectacular Lakeview Ceremony Room, elegant bespoke Wedding Chairs, Cherry Blossom Trees, exquisitely decorated Ballroom and much more to complete that opulent look on your special day.For more information on Weddings at Bloomfield House Hotel, click here
Picture below l to r: Lucy Dillon, Nicola Forkan & Katrina Leech were thrilled with Bloomfield House Hotel receiving Awards for Westmeath's Wedding Venue of the Year and Ireland's Country House Wedding Venue of the Year.
Bride & Groom return to Bloomfield House Hotel for Ruby Anniversary Celebrations
What better way to celebrate 40 years of love and marriage than by returning to the place where it all began? Having held their wedding reception in Bloomfield House Hotel on September 1st, 1979, Mr & Mrs Tom and Jackie Connell returned to us today, 40 years to the day, to mark their ruby wedding anniversary.
Tom Connell originally from Cullion, Mullingar married Jackie­­­­ ­­­­­­­­­­Cooney from, Rahan, Co. Offaly in St. Carthage's Church in Killina, Rahan. A lavish reception at the then newly opened Bloomfield House Hotel, Mullingar awaited the newlyweds, their family and friends.
The happy couple, who now reside in Crookedwood, Co. Westmeath returned to Bloomfield House for a celebratory meal with their family to mark this very special anniversary.
Tom and Jackie were among the first couples to celebrate their wedding at Bloomfield House Hotel, the beginning of a long tradition of truly memorable weddings. Thirty six years later, daughter Sinead followed in her parent's footsteps and chose Bloomfield House Hotel as the venue for her big day to husband Hugh.
All the Team at Bloomfield wish Tom, Jackie and family health and happiness for the future and many more happy occasions together. There's always a welcome at Bloomfield.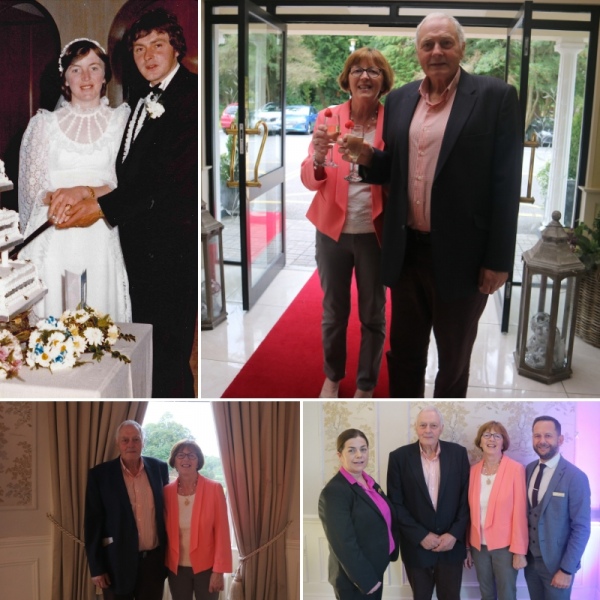 Bloomfield House Hotel beats off stiff competition to win 'Wedding Venue of the Year' at Hospitality Awards
Bloomfield House Hotel has been awarded 'Wedding Venue of the Year' at the 2nd annual Hospitality Awards hosted by Midlands 103. The Hospitality Awards celebrate the best in hotel and hospitality excellence in the Midlands counties of Laois, Offaly and Westmeath that go above and beyond to deliver a best in class customer experience. The 'Wedding Venue of the Year' award was a highly contended category, with a long list of worthy nominees from across the region. Each hotel was assessed against a number of key criteria to measure quality, facilities, wedding packages and service.
Commenting on the win, Ronan Byrne, General Manager said: "We are thrilled to have been awarded this prestigious award at the Midlands 103 Hospitality Awards. Thank you to all of our valued and loyal customers who nominated us and to the hardworking team at Bloomfield House Hotel".
"Having opened its doors in 1979, this year will mark 40 years of truly wonderful weddings at Bloomfield House Hotel" he continued. "As a long established hotel, we are always striving to offer the best experience possible to our Wedding couples. The extension to the Restaurant and Leisure Club area is near completion. We have more exciting enhancements on the way to celebrate our ruby anniversary".
Pictured receiving the award from Seanie Morris of Midlands 103 are (l to r) Nicola Forkan (Weddings & Events Manager), Lucy Dillon (Weddings & Events Co-ordinator) & Oliver Gaffey (Sales & Marketing Manager)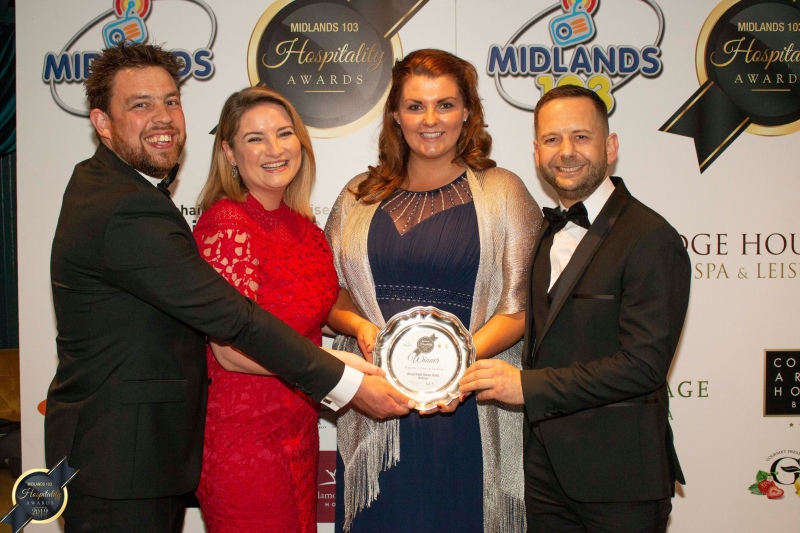 Team Bloomfield take on Westmeath's Fittest Company
Congratulations to our very own Gary, Oliver, Elaine & Shane who flew the flag for us at Westmeath's Fittest Company event recently. A kayak, obstacle course, bog run and hang tough challenge awaited the guys where they came home 1st their heat and made it right through to the final. The elements were tough but a superb day was had by all including team mentor Sharon Scally who drove the guys on all day. Well done to organisers Maurice Looby Fitness, all the competitors and everyone who played a part in organising a brilliant event.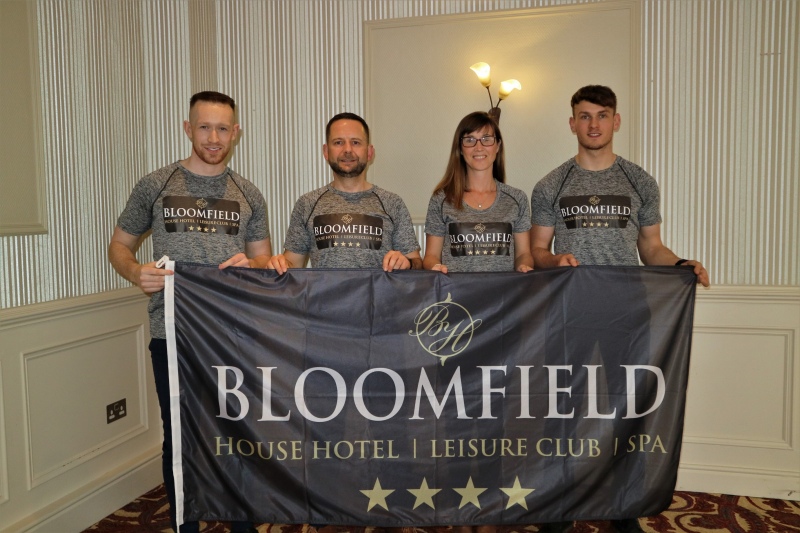 Bloomfield House Hotel First in Westmeath to be Accredited for Excellence in Customer Service by Fáilte Ireland
Bloomfield House Hotel has become the first hotel in Westmeath to complete Fáilte Ireland's Accredited Services Excellence Programme's Business Award. The Programme is aimed at helping tourism attractions and businesses reach the highest standards in customer care, which can result in major benefits such as business growth, additional repeat business, increased visitor spend and positive recommendations.
Speaking on the accreditation to Bloomfield House Hotel, Marie McCormack, Ireland's Ancient East Officer at Fáilte Ireland said that the Programme is an important aspect of Fáilte Ireland's business development and training supports.
"The Accredited Service Excellence Programme is aimed at helping tourism businesses strengthen competitiveness and to help differentiate Ireland from its international competitors as a location where the customer is at the centre of everything a business will do. It provides an opportunity for the Irish tourism industry to be recognised for 'best in class' customer service and great visitor experiences and we are delighted to present Bloomfield House Hotel with its accreditation."
Ronan Byrne, General Manager at Bloomfield House Hotel said:
"Today's accreditation from Fáilte Ireland is testament of the hard work and dedication of our staff. Our focus has been and must always be on providing the very best in customer care and service to our guests and we have always placed the customer at the core of our business. I am delighted to accept the Accreditation from Fáilte Ireland on behalf of Bloomfield House Hotel and in particular our staff who undertook the training."
Pictured below receiving the accreditation plaque from Marie McCormack, Ireland's Ancient East Officer at Fáilte Ireland, is Liz Connaughton, Director at Bloomfield House Hotel (left) and Ronan Byrne, General Manager (right), along with some of the 47 members of staff who completed the Accredited Services Excellence Programme.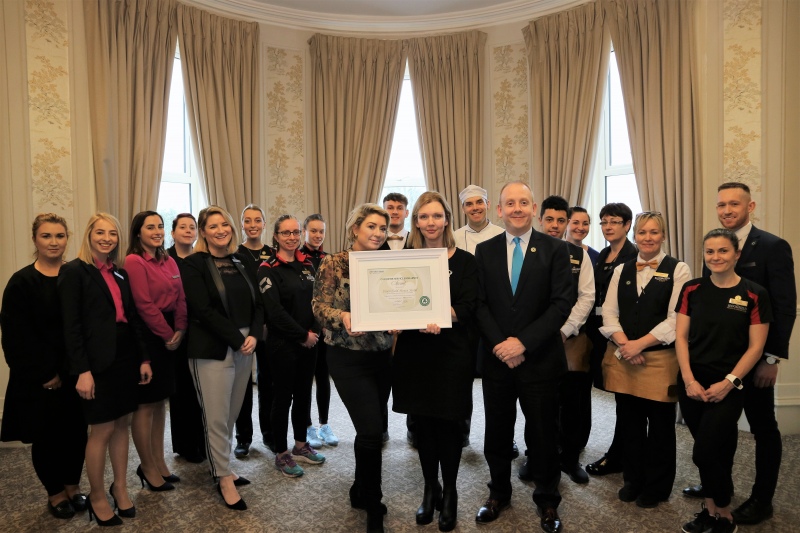 Purple Flag Mullingar
October is Purple Flag month and Mullingar is coming together to celebrate the accreditation and in doing so raising awareness of the programme #AskforAngela.
We are delighted to be part of the Ask for Angela innovative campaign, enabling those who feel vulnerable in evening and night time economy to use the code words to gain assistance from staff. They will be taken aside, or to a safer location, so they can speak in confidence to that staff member about what assistance they need.
Options available to staff include offering to call a taxi for the individual, getting them back to their group safely or contacting their friends or family.
The scheme is neither gender nor age specific and will be available at Bloomfield House Hotel, participating bars, clubs, restaurants, hotels and evening and night time venues throughout Mullingar.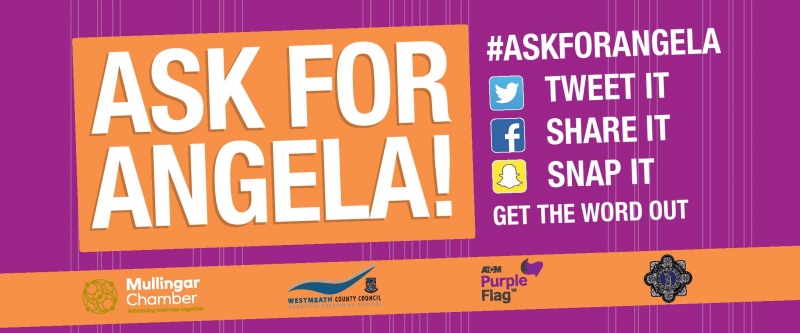 Chef Roger gives a roasting!
Well done to our Chef, Roger, who took on the mighty Quest Ireland Adventure series in Killarney last weekend with his wife Aisling.
After "roasting" the other competitors in the early stages, they even had time to stop and soak up the views!
Well done guys!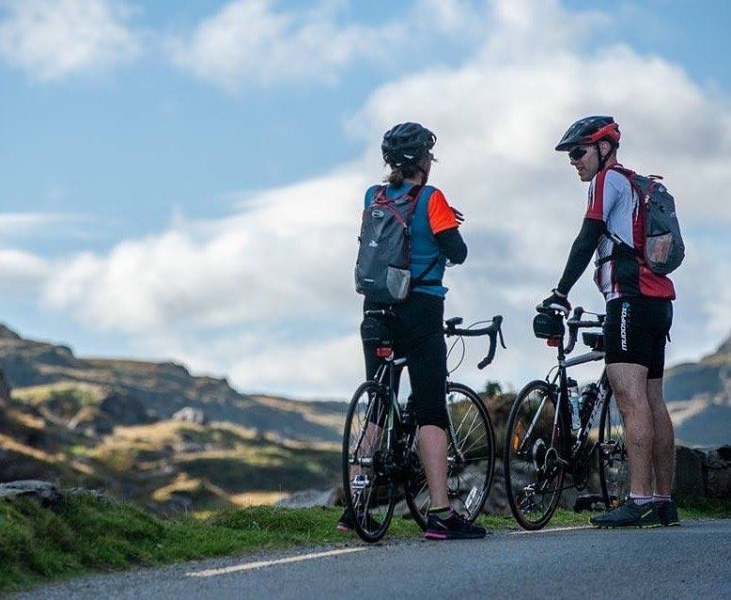 Happy Hearts at Bloomfield
Every year in Ireland many people suffer a cardiac arrest caused by arrhythmias in the heart due to uncoordinated electrical impulses. These electrical impulses can be corrected with the use of an AED (Automated External Defibrillator) which delivers a shock to the heart to try and correct these arrhythmias. Bloomfield House Hotel, Leisure Club & Spa are pleased to announce that they have installed a Defibrillator on their premises. This is a portable electronic device that applies electricity allowing the heart to reestablish an effective rhythm in the event of a cardiac arrest. The hotel have installed the life saving device not only to protect their guests but also for their employees who spend even more time at the hotel.
Sadly, everyone is at risk of suffering a cardiac arrest, from young children to the elderly. They are often triggered by an underlying heart condition which can be unknown; however they can occur without warning from something as simple as suffering a blow to the chest.
One of the most important factors in the survial of cardiac arrest is the early use of a defibrillator. For every minute a casualty is in cardiac arrest without treatment, chances of survival decrease. Should a cardiac arrest occur on the hotel grounds, this move by the hotel will ensure a defibrillator will be at the scene and the victim can be analysed within minutes of collapse.
Mr. Gaffey went on to say "The safety of our staff and guests is top priority but we would like to make the local community here in Lynn and Belvedere aware of our AED and should an emergency occur please do not hesitate to ask for our assistance."
Pictured below are members of the Bloomfield Team receiving their certs from trainer Breda Ward having succesfully completed their AED training.