Bride & Groom return to Bloomfield House Hotel for Ruby Anniversary Celebrations
What better way to celebrate 40 years of love and marriage than by returning to the place where it all began? Having held their wedding reception in Bloomfield House Hotel on September 1st, 1979, Mr & Mrs Tom and Jackie Connell returned to us today, 40 years to the day, to mark their ruby wedding anniversary.
Tom Connell originally from Cullion, Mullingar married Jackie­­­­ ­­­­­­­­­­Cooney from, Rahan, Co. Offaly in St. Carthage's Church in Killina, Rahan. A lavish reception at the then newly opened Bloomfield House Hotel, Mullingar awaited the newlyweds, their family and friends.
The happy couple, who now reside in Crookedwood, Co. Westmeath returned to Bloomfield House for a celebratory meal with their family to mark this very special anniversary.
Tom and Jackie were among the first couples to celebrate their wedding at Bloomfield House Hotel, the beginning of a long tradition of truly memorable weddings. Thirty six years later, daughter Sinead followed in her parent's footsteps and chose Bloomfield House Hotel as the venue for her big day to husband Hugh.
All the Team at Bloomfield wish Tom, Jackie and family health and happiness for the future and many more happy occasions together. There's always a welcome at Bloomfield.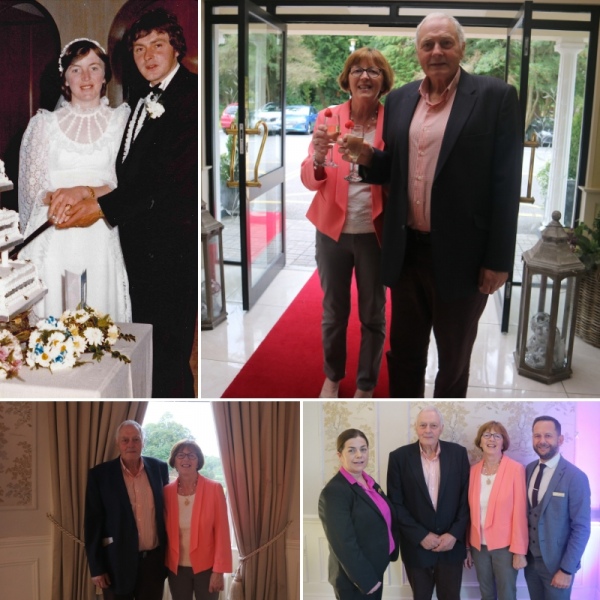 Bloomfield House Hotel beats off stiff competition to win 'Wedding Venue of the Year' at Hospitality Awards
Bloomfield House Hotel has been awarded 'Wedding Venue of the Year' at the 2nd annual Hospitality Awards hosted by Midlands 103. The Hospitality Awards celebrate the best in hotel and hospitality excellence in the Midlands counties of Laois, Offaly and Westmeath that go above and beyond to deliver a best in class customer experience. The 'Wedding Venue of the Year' award was a highly contended category, with a long list of worthy nominees from across the region. Each hotel was assessed against a number of key criteria to measure quality, facilities, wedding packages and service.
Commenting on the win, Ronan Byrne, General Manager said: "We are thrilled to have been awarded this prestigious award at the Midlands 103 Hospitality Awards. Thank you to all of our valued and loyal customers who nominated us and to the hardworking team at Bloomfield House Hotel".
"Having opened its doors in 1979, this year will mark 40 years of truly wonderful weddings at Bloomfield House Hotel" he continued. "As a long established hotel, we are always striving to offer the best experience possible to our Wedding couples. The extension to the Restaurant and Leisure Club area is near completion. We have more exciting enhancements on the way to celebrate our ruby anniversary".
Pictured receiving the award from Seanie Morris of Midlands 103 are (l to r) Nicola Forkan (Weddings & Events Manager), Lucy Dillon (Weddings & Events Co-ordinator) & Oliver Gaffey (Sales & Marketing Manager)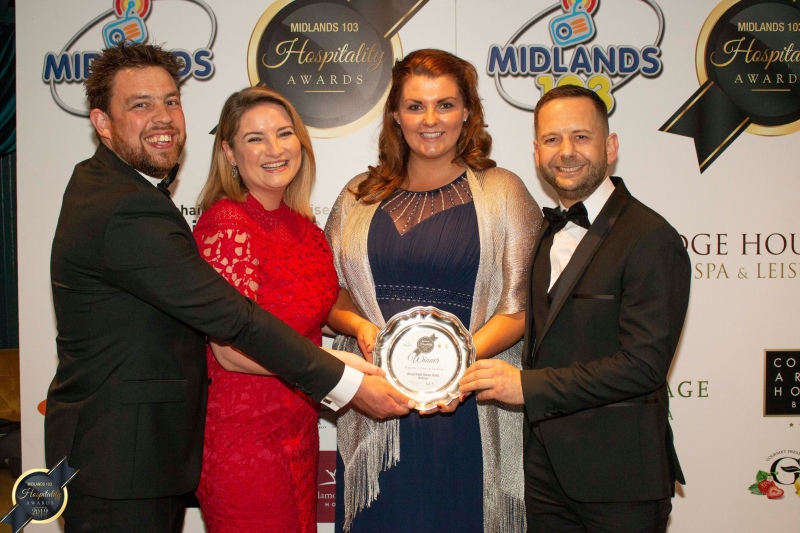 Team Bloomfield take on Westmeath's Fittest Company
Congratulations to our very own Gary, Oliver, Elaine & Shane who flew the flag for us at Westmeath's Fittest Company event recently. A kayak, obstacle course, bog run and hang tough challenge awaited the guys where they came home 1st their heat and made it right through to the final. The elements were tough but a superb day was had by all including team mentor Sharon Scally who drove the guys on all day. Well done to organisers Maurice Looby Fitness, all the competitors and everyone who played a part in organising a brilliant event.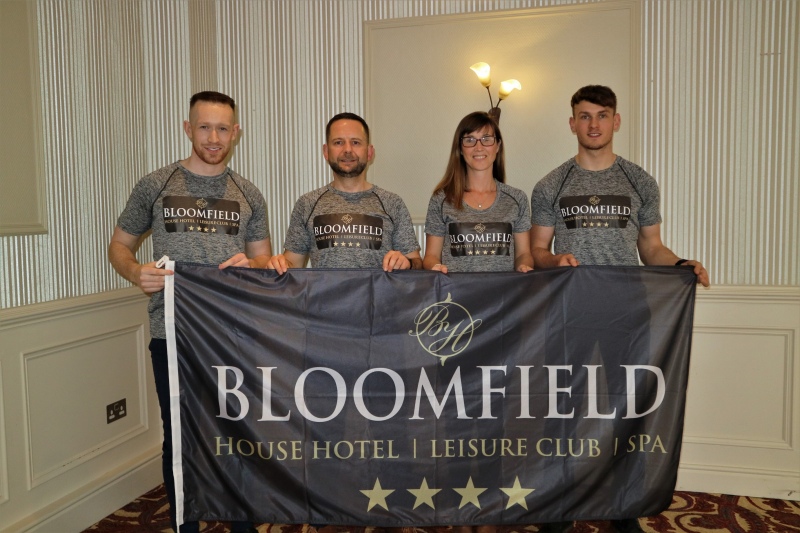 Bloomfield House Hotel First in Westmeath to be Accredited for Excellence in Customer Service by Fáilte Ireland
Bloomfield House Hotel has become the first hotel in Westmeath to complete Fáilte Ireland's Accredited Services Excellence Programme's Business Award. The Programme is aimed at helping tourism attractions and businesses reach the highest standards in customer care, which can result in major benefits such as business growth, additional repeat business, increased visitor spend and positive recommendations.
Speaking on the accreditation to Bloomfield House Hotel, Marie McCormack, Ireland's Ancient East Officer at Fáilte Ireland said that the Programme is an important aspect of Fáilte Ireland's business development and training supports.
"The Accredited Service Excellence Programme is aimed at helping tourism businesses strengthen competitiveness and to help differentiate Ireland from its international competitors as a location where the customer is at the centre of everything a business will do. It provides an opportunity for the Irish tourism industry to be recognised for 'best in class' customer service and great visitor experiences and we are delighted to present Bloomfield House Hotel with its accreditation."
Ronan Byrne, General Manager at Bloomfield House Hotel said:
"Today's accreditation from Fáilte Ireland is testament of the hard work and dedication of our staff. Our focus has been and must always be on providing the very best in customer care and service to our guests and we have always placed the customer at the core of our business. I am delighted to accept the Accreditation from Fáilte Ireland on behalf of Bloomfield House Hotel and in particular our staff who undertook the training."
Pictured below receiving the accreditation plaque from Marie McCormack, Ireland's Ancient East Officer at Fáilte Ireland, is Liz Connaughton, Director at Bloomfield House Hotel (left) and Ronan Byrne, General Manager (right), along with some of the 47 members of staff who completed the Accredited Services Excellence Programme.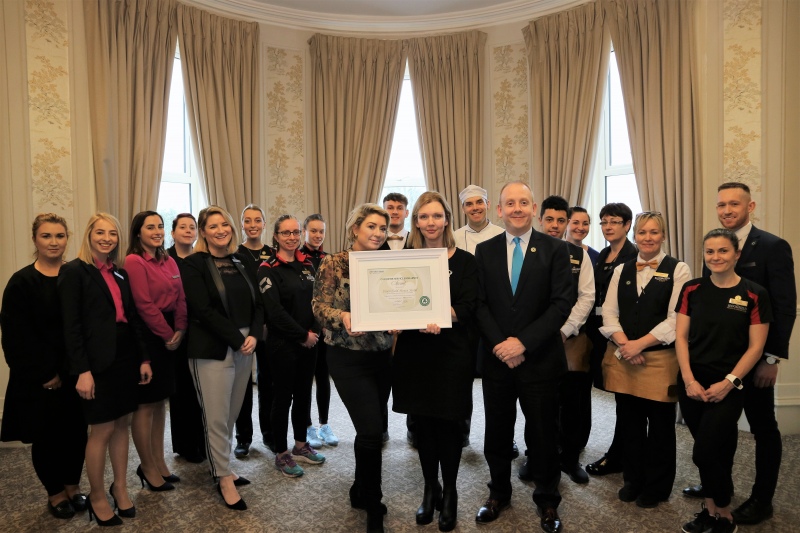 Purple Flag Mullingar
October is Purple Flag month and Mullingar is coming together to celebrate the accreditation and in doing so raising awareness of the programme #AskforAngela.
We are delighted to be part of the Ask for Angela innovative campaign, enabling those who feel vulnerable in evening and night time economy to use the code words to gain assistance from staff. They will be taken aside, or to a safer location, so they can speak in confidence to that staff member about what assistance they need.
Options available to staff include offering to call a taxi for the individual, getting them back to their group safely or contacting their friends or family.
The scheme is neither gender nor age specific and will be available at Bloomfield House Hotel, participating bars, clubs, restaurants, hotels and evening and night time venues throughout Mullingar.